Curriculum Highlight- Sonlight
Posted by Michelle Osborn on
Welcome to Yellow House Book Rental! We are primarily a homeschool curriculum, rental service. However, we offer a variety of services. You can compare each one, at Yellow House Book Rental, and decide which is best for your family.
**This post contains affiliate links and we will be compensated, at no extra cost to you, if you make a purchase after clicking on these links Thank you.
This week's  Curriculum Highlight is Sonlight. I absolutely LOVE Sonlight. 
During my homeschooling years I loved going to use curriculum sales and conventions. I enjoyed seeing, and browsing the curriculum on display, as well as talking to others who had used the curriculum.
It was at a used curriculum sale that I came across
Sonlight
. That day changed the way we did history and brought a new found favorite subject for us.
We used just about all of the cores during my 22 years of homeschooling. (I did throw in 
Mystery of History

 
here and there, in different years. MOH is awesome too). Sonlight cores area available for all ages, kindergarten through high school.
We saw history in a new light. Sonlight uses reading books, living books, not textbooks, to take you and your child through history by drawing you into the events, feelings, and thoughts of those who lived before us. (fiction and non-fiction).
History no longer is a dry textbook of facts, names, and numbers to memorize. Nor is it a subject where there is no connection, or enjoyment.
You will find that you and your children look forward to this time every day. What child doesn't like being read to after their tummy is full and they can sit next to you as they are transported into another time and place where their imaginations can take over. 
When we learn through stories, the material sticks. These stories give context to the information, create an emotional connection with your children, and help the readers retain the information. I learned so much more history as a homeschool mom than I eve
Many of Sonlight books are Newbery Award winners so the Sonlight catalog is also used by parents and teachers just to find excellent books, not curriculum!
Each Sonlight Core contains everything you need for History, Bible, and Literature for that year. As with all curriculum, use only what works for your homeschool for that year and skip the rest. I chose Sonlight for the history, readers, read alouds, and geography.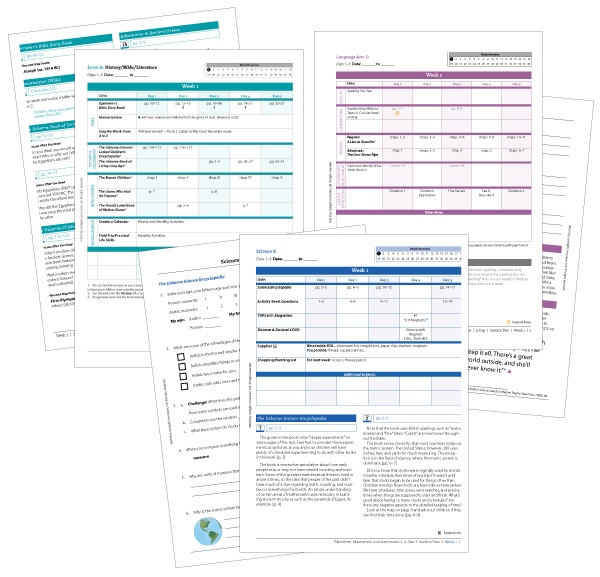 You will know exactly what to teach every day with minimal preparation.
With Sonlight's complete, easy-to-use lesson plans

,

  you'll simply gather your books, open your Instructor's Guide, and read to your children. It's as easy as that.
Discussion questions are included in the instructor's Guide. the discussion times are an excellent way to reinforce what you read, as well as listen to hear your child's thoughts and teach them through example what discussion is all about.
Talk about what you read.
Ask questions
Listen to what your children think.
Because Sonlight
's 
Student Guides
 are designed to help students think, evaluate and analyze issues, it is a perfect choice for high school students. David Coleman, president of the College Board and designer of the SAT and AP tests states:
 "The single most important predictor of student success in college is the ability to read a range of complex texts with understanding."
Sonlight
 walks students through complex literature step-by-step and engages your students to think deeper. 
Sonlight
's cores are thorough and include 
three to four times
 the course material of most other high school curriculum programs. Is your high schooler's curriculum lacking in content? Now is a great time to get a more complete program.
Core 300, 20th Century was one of my favorites for high school. History and literature credit is a must in this core. They are so intertwined.
"Because Christian missions is at the core of Sonlight, every History / Bible / Literature curriculum package includes at least one missionary biography.
Sonlight

 users love the literature-based learning approach, because:
Literature conveys information in an enjoyable way.
Literature makes information easy to remember.
Literature encourages you to interact with your children.
Experience literature-rich learning for yourself! Sonlight's outstanding books will have even the most reluctant learner begging for "one more chapter."  ~Sonlight.com If you chose Sonlight this year, remember this very important tip. Take your time. Education is not a race. You don't have to read every book in the core. Choose what works best for your family. If your child remembers some aspects and events of history you have done well.
Do you remember much about history you learned in school? If so, why do you remember it? Names and dates only matter on tests for most of us. I have always told my children
Our goal is not to finish the book, 
but to learn while reading the book.
I didn't want my children to think that just by reading to the end of a book, they learned something. Have you ever read a page or two and then thought, "I don't even know what I read. My mind was somewhere else." I have! 
These read-aloud times were some of my fondest memories of homeschooling.
I hope you consider trying 
Sonlight
 and if you do, cherish those read-aloud times while snuggling together on the couch!
Learning is a journey, a process, not just a list of books read and papers written.
Enjoying the journey,
~Michelle~
 Michelle Osborn is the owner and founder of Yellow House Book Rental, specializing in providing homeschool curriculum for rent or purchase, as well as counseling and guidance for homeschool families. She is a wife of 30 years, a 22-year homeschool veteran, and mom of four amazing children. She and her husband absolutely adore their four grandchildren. Two of her children are now entrepreneurs, running their own businesses and doing quite well. Michelle's passions include serving by leading worship at her church and encouraging homeschool moms through one on one, social media and speaking engagements. She has found her niche in helping parents homeschooling their teens through the high school years and on to pursue their dreams
Yellow House Book Rental links to many different sources within our blogs. A link does not equal an endorsement. We cannot guarantee the content of each site (especially its ads).   
Visit our sponsors! We receive a small commission when you purchase through these links. (As an Amazon Associate I earn from qualifying purchases.) Thank you. The purchases do not cost you more but help support our business and ministry. We only promote those that we love and believe in!
---
Share this post
---
Tags:

Books, Boys, Children, Curriculum, Family, Giveaway, Highschool, History, Homeschool, Rent, Teens, US Government
---
---