Math U See
Math U See 
We have stopped renting most of Math U See products at this time. It is our personal favorite math curriculum and hope to have it available in the future. 
Math U See is a math curriculum that you and your student will love! 
Would you like to save money by renting Math U See?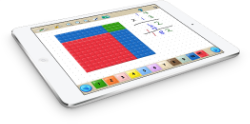 Digital manipulatives
Math-U-See free drills and worksheets 
We are not affiliated with or a distributor for Math U See products.
Placement tests: Find the Math U See level that most closely matches your student's math ability.
---
Sorry, there are no products matching your search.